SURVEILLANCE
Licensed in Mississippi, Tennessee, and Arkansas, we 
install surveillance systems
 in 
Horn Lake, Southaven, Walls, Olive Branch, Hernando, and the greater Memphis area
. Call today for a free on-site consultation 
1-877-644-6563
.
SERVICE OVERVIEW
With a Video Surveillance System, CCTV system a business can monitor its entire property, watching not only for theft, but also keeping an eye on customer traffic and employee activities, thereby reducing losses due to non productive employee activity and less than optimal product placement. A CCTV system can deter shoplifting and recorded video can aid in any investigation efforts because it is more reliable than eye-witnesses. This can lead to a better chance of prosecution or prevention of false workers' compensation and liability claims.
There can be some cost savings with implementing a surveillance system. Check with your Insurance agent about reduced premiums and with your CPA about tax possible tax deductions. Many companies are able to deduct 100% of their CCTV equipment purchase.
WHAT MAKES ALARM.COM-POWERED SECURITY CAMERAS BETTER?
Connected security cameras are one of the best home security investments that you can make.
Burglars are wary of them. Most will avoid your home if they spot a security camera, making them a formidable deterrent. They're also incredibly useful, allowing you to check in on your family or pets via your smartphone, or see and talk to a visitor at your front door.
True security cameras—like those powered by Alarm.com—are fully connected to a 
smart home security system
. This gives them features and intelligence that standalone connected cameras don't have.
A property owner can monitor and record anyone entering and exiting the property 24/7, even when away. Keep in mind that no system can stop theft and some systems can be vulnerable to attack. High-end systems can be costly, but are worth the extra money.
Different benefits will apply to different businesses and/or homeowners. At PowerTechnics, Incorporated, we can provide a system for the unique needs of any home or business.
SEE WHAT'S HAPPENING ANYTIME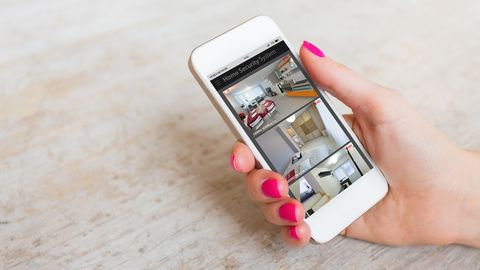 Traditionally, security camera footage was something you looked at after something bad happened. Now, the Alarm.com app makes it easy and convenient to see what's in front of any camera in your home, anytime. Just open a video feed to:
Get a clear view. Our wireless indoor and outdoor cameras let you see what's happening in HD resolution, with our newest cameras offering 1080p.
Take a closer look. Wondering what exactly your kids are watching on TV when you're out? Just open your living room video feed, then use your fingertips to zoom in for a better view of what's happening.
See in the dark. When something goes bump in the night, you don't need to activate your smart lights right away. Our cameras' infra-red night vision makes it easy to see what's going on.
GET CUSTOM VIDEO ALERTS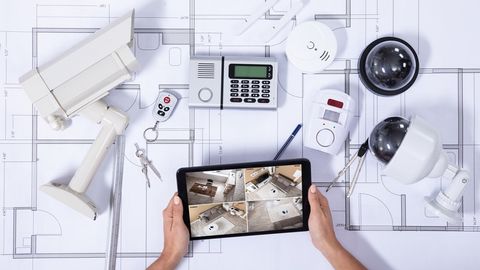 While any connected video camera can send you a video alert, Alarm.com uses its understanding of your home's activity to let you pick and choose the specific events that you want a video alert of. For example:
Motion on your porch. All Alarm.com-powered cameras have motion sensors—but you don't need an alert every time someone moves in your house. It's easy to customize a motion-triggered alert for any single camera—and you can filter it further by time of day, or security arming status.
Your kids are home. Alarm.com understands a lot of context behind your home's activity—such as who just unlocked the door. Your kids' unique user codes can trigger a once-a-day video alert to show you they're home safely from school.
There's an alarm. In an alarm event, your home's cameras begin recording automatically, ensuring that you won't miss vital footage. Here's a real-life example of why that's so important.